2
contenu
Be privately welcomed by a renowned estate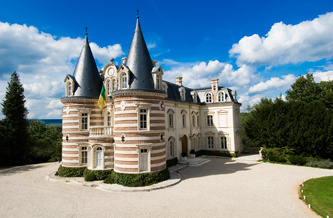 Enter the atmosphere of a grand house in the purest local tradition. A member of this institution will tell you about the family's history and will guide you for an exclusive tour of its cellars. An impressive staircase will lead you almost one hundred feet underground, to a network of tunnels which lead to former chalk pits, listed as a historical monument. This rare moment will continue with an exclusive lunch at the marvelous family estate.
4
contenu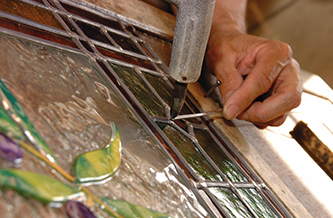 Visit a renowned glassmaker's workshop in the midst of colored lockers, ovens and stained glass being made. This master glassmaker will explain how the magic of light and color works, from the drawing table to the lead glazing including the cutting of the glass. A magical universe made of colors and light. You'll look at Marc Chagall's famous stained glass at the Reims Cathedral in a whole new light.
6
contenu
Following in the footsteps of Dom Pérignon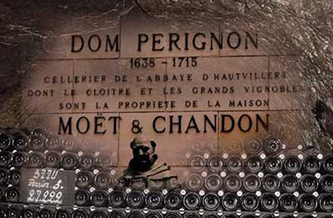 Dom Pérignon is considered as the spiritual father of champagne. A Benedictine monk, who lived from 1639 to 1715 at the Saint-Pierre d'Hautvilliers Abbey, he was responsible for the effervescence of this region's wines and discovered the bottle fermentation process now known as the méthode champenoise (champagne method). A passionate native of Champagne will tell you his story, will guide you in the village, and then immerse you in the heart of hearts – the house of Moët & Chandon where you'll be enchanted by a tasting of its mythical vintage created in honor of this monk…
8
contenu
Cheeses and champagnes… an improbable combination?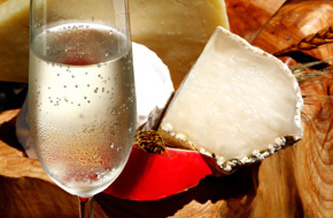 And why not! Even if this union doesn't seem very natural in theory, and doesn't make sense between fine, subtle wines and strong-flavored cheeses, we wonder why not... A winner of the title Meilleur Ouvrier de France (one of the best craftsmen of France) will explain, encourage, and praise the fusion of bubbles and cheeses.
Explosive combinations, and appealing to say the least - Camembert and brut champagne; Maroilles and rosé champagne; Comté and vintage champagne; Fourme d'Ambert and demi-sec champagne …
10
contenu
High-profile grape harvests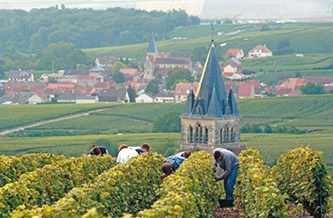 In the midst of the vineyards, in a chateau that still exudes the spirit of the great 18th century writers, come experience the harvesting of wine grapes at a major champagne house. You'll be in the heart of the action, between the grapevines and the wine press – you'll take part in the effervescence of this particular period, you'll admire the vineyards, age-old traditions and various wine making methods. In the prestigious setting of this chateau, you'll enjoy a lunch together in the grape-harvesting spirit of an exceptional brand of champagne, of which you'll be the privileged guests.
12
contenu
Thrill seeking and a cocktail in the trees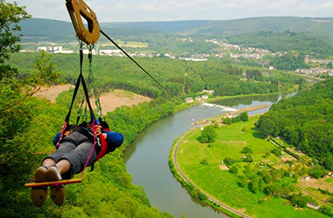 Looking for something unusual? Something physically and mentally challenging? Conquer your initial fear of being up high in the trees, and try the obstacle course – a rope bridge, zipline, climbing, rappelling…Celebrate your exploits with a champagne cocktail, perched 20 feet high in the trees!
14
contenu
Horseback riding through champagne villages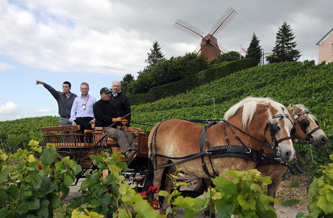 Near Reims, amidst the grapevines, saddle up in a peaceful green backdrop. From beginners to advanced riders, ride across the hillside champagne vineyards and the thick forests of Montagne de Reims. Take the reins and guide your horse wherever you like. Your steed will take you to a charming inn for a superb meal rustled up by the lady of the house.
16
contenu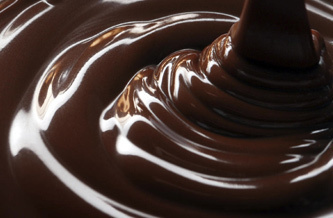 A Master chocolate maker will teach you the life of a cocoa bean up to the moment when it becomes 6 grams of candy. He'll initiate you with a grand cru chocolate tasting. He'll also demonstrate how to make cookies such as macaroons and he'll give you some tips. A truly delicious experience!
18
contenu
Scavenger hunt in the vineyards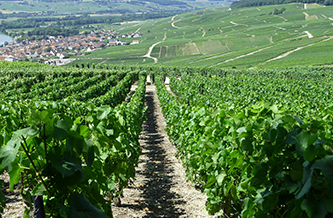 A scavenger hunt in the Côte des Blancs vineyards, a new way to discover famous champagne vineyards. Have your guests participate in this pedestrian scavenger hunt that has fun cultural challenges based on champagne and the sommelier's work. Get ready to do a blind wine tasting and write a song!